Mortise milling machines are currently preferred for use in the furniture industry and be trusted by everyone. This is an effective mechanine to create the modern wooden products that is high durable. The following article coming from Hong Ky will help you to understand this product better.
What is the function of Mortise milling machines
Mortise milling machine is a device that is connected with the translational motion cutter to create the beautiful and aesthetic patterns. This device is often used to machining the materials, mainly used in the wood industry.
Its operation is basically the rotation or translation of the cutters.
You can control the relative position of the workpiece to create the desired shape.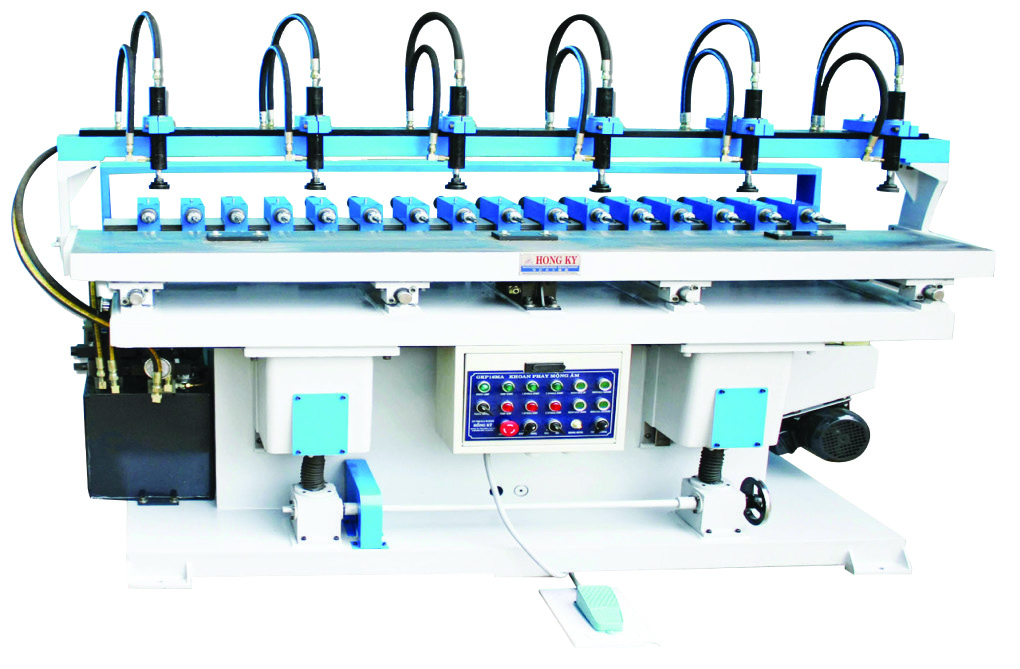 Machining object
Mortise milling machines are used primarily for the wood industry, especially for creating highly aesthetic products. This device can replace manual tools to save costs and working time
The machine has a large and stable rotation speed, if combined with the skilled technique of the user, it will produce a beautiful, quality product.
Cutter
The section of the knife is aimed to create lines for the product to increase the aesthetics. The milling head is made of high-strength steel with high hardness to create sharp grinding lines, which saves large input costs.
The cutter section of tenon milling machine
The lines vary depending on how skilled the craftsman is. Workers can also create and make cutting strokes softer, more beautiful than ever.
Advantages of tenon milling machine
Milling machines are currently trusted by many people to use because of the advantages such as:
Save the maximum processing time: You just need to set the working position and then save them. You will not need to spend too much time adjusting them.
The machine has a high precision, the machine adopts a high-precision pick technology, so the joints will have a high accuracy.
What are the advantages of tenon milling machine?
Saving processing costs to create joints that require high skills. Normally you have to spend quite high costs for hiring skilled workers to make quality products. As for the tenon milling machine, anyone can use it
Application of tenon milling machine
Milling machines can make all wood products very simple, including office furniture, bedrooms or kitchens ... Even can make counterfeit items quickly. The machine ensures absolute precision between the joints is absolute, creating products with high aesthetic value.
It helps in the manufacture of wooden furniture to reduce the traditional stages. You can operate simply, every stage can be checked and controlled right on the control panel.
What is the application of tenon milling machine?
Benefits of using tenon milling machine
Creating absolute precision for wood products, the type of tenon milling link is extremely solid.

Avoiding the wrong joints, making the link loose

Save more labor, reduce the waiting period and transport the wood billets

Simple programming method, reducing time to align machine and set up operation

Able to design a variety of modern mortise milling

Help save production space, reduce investment costs
Several types of tenon milling machines in Hong Ky
If you want to find quality tenon, you can refer to the following types of Hong Ky.
Automatic 2-head mortise cutting machine - 1 rail
The machine has the following characteristics:
Using gears and 2 automatic milling cutter heads, high productivity

High precision roller skates

Pneumatically clamping wood workpieces, automatically cutting and milling

Adjust depth, cut by crank easily
Mortise milling machine with 16 heads
The 16-head tenon milling machine has several characteristics such as:
High precision rail part

Force clamping with a powerful hydraulic

Sturdy chassis system, without vibration

Automatic table lifting and clamping
Figure 5: Types of tenon milling machines in Hong Ky
Automatic 2-head mortise cutters - 2 tracks
automatic 2-head mortise milling cutter - 2 rails, you will see features like:
The machine uses gears and 2 automatic heads, high productivity

Table slides on high-precision track

Pneumatic clamping, automatic cutting and milling machines

The machine has adjustable depth, cut by crank very easily
Why should you buy tenon milling machines in Hong Ky?
If you are looking for a good, quality tenon milling machine, Hong Ky is a prestigious choice. Hong Ky is proud to be a manufacturer and distributor of quality milling machine products, ensuring safety for users.
With long experience in the field of manufacturing all kinds of machinery in the wood industry, you can be assured of our quality. Products are constantly being improved every day to meet the needs of customers and markets
Production technology is constantly updated, regularly renewed to produce better products. In particular, the range of mortise milling machines in Hong Ky is very diverse for you to choose depending on your needs. There are many different types that will help you find the right one for your working
If you need more specific advice, please contact Hong Ky for more details.
Hong Ky Mechanical Trading Production Company
Head Office: 54 Tay Lan, KP7, Binh Tri Dong A Ward, Binh Tan District, Ho Chi Minh City
Ho Chi Minh Representative Office: 38 Tay Lan, KP7, Binh Tri Dong A Ward, Binh Tan District, Ho Chi Minh City
• Hotline: 1900 636 536
• Email: info@hongky.vn
• Website: https://www.hongkywoodworking.com/